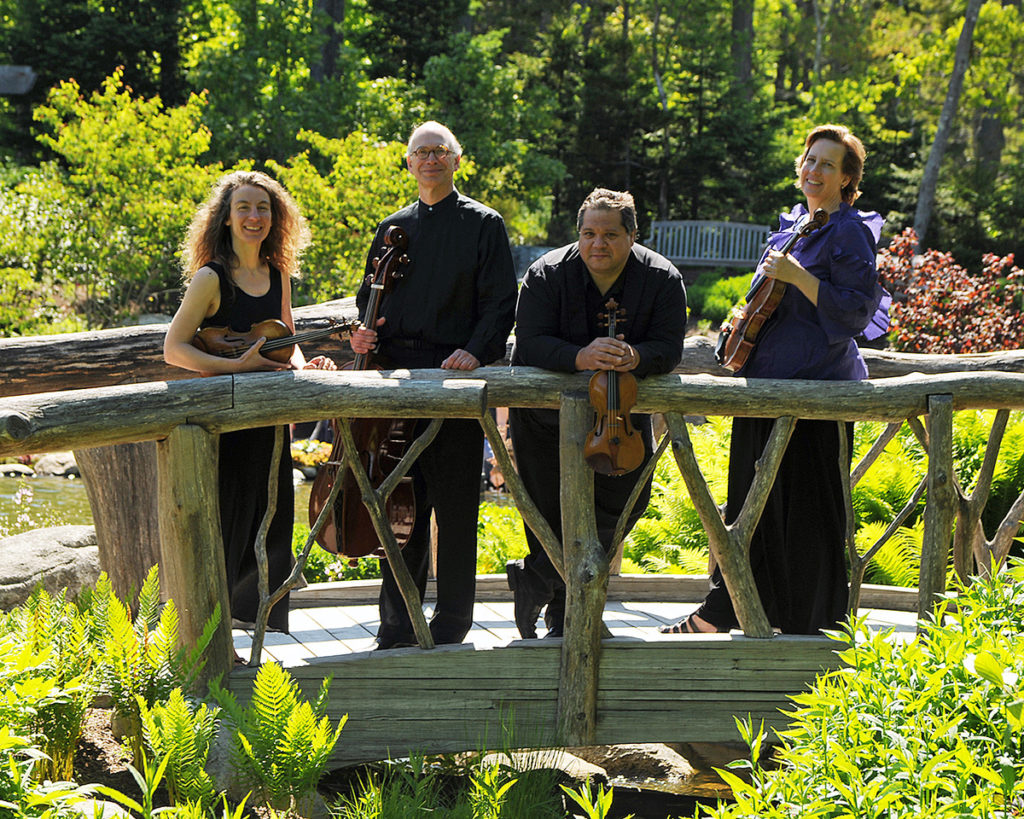 ABOUT THE DAPONTE STRING QUARTET
Not long after forming in Philadelphia 31 years ago, the DaPonte String Quartet surprised the musical world by moving from a cosmopolitan urban area to rural Maine. The DSQ had been — and continues to be — sought after to perform and teach all over the U.S. and around the world. They have appeared in France, Scotland, Canada, and more than twenty American states. Their performances have been broadcast over nation-wide radio and television programs in both the United States and Canada. They have received awards from the National Endowment for the Arts, the Philadelphia Musical Fund Society, the Music Teachers National Association, Chamber Music America, and have participated in several of the nation's most prestigious concert series to rave reviews. Musicians and critics alike wondered, why would the DSQ move to Maine, where, as the New York Times noted, they create an experience "like watching the Celtics play in the local gym."
But the members of the DaPonte String Quartet were proud to call Maine home, and their relationship with mid-coast Maine remains a deeply rooted one. When CBS Sunday Morning nationally televised a profile of the group, the idea of living outside a major urban center suddenly appeared to be an appealing alternative lifestyle few musicians had considered. Few string quartets can boast such a devoted following. The people of Maine warmly embraced the DSQ, which has become an integral part of the state's musical life. When the Quartet debuted at Carnegie Hall, a large contingent of their fans traveled to New York to hear and cheer them there. The Times wrote in amazement: "Let it not be said that the DaPonte String Quartet enters New York musical life without friends. Weill Hall was packed!" The state's embrace of the DSQ has also taken the form of awards from the Maine Arts Commission.
This support enables the DSQ to perform a wide-ranging and varied repertoire. While many classical musicians struggling with the realities of the contemporary musical marketplace find themselves performing exclusively new compositions, the Quartet's repertoire spans the entire history of music, from seventeenth-century works on original instruments to cutting-edge contemporary quartets, like the one written for them by Pulitzer Prize-winning composer David Del Tredici. The DSQ is also known for their inventive interpretations of the works they play. The Boston Globe observed that whatever music they present — be it Renaissance, Baroque, Classical, Romantic, Modern, or Post-Modern — the freshness of the DSQ's performances make these works appear novel and contemporary: "Once again, the music could have been hot off the presses." Their performances affirm chamber music as a vital and alive art form.
Fresh conception requires original thought, and the DSQ's is based on solid research, extensive scholarship, and meticulous preparation. Strings Magazine recently remarked on the inclusion of British composer Thomas Ades's quartet Arcadiana in the DSQ's repertoire, noting that few groups would find themselves able to invest the hundreds of hours of preparation required for music of such complexity. This sort of groundwork gives their performances authority, but an authority that isn't stiff or aloof. Their concerts are dynamic and their stage manner — with one another and with their audiences — is warm and conversational. The Quartet members regularly share musical insights with their audiences before playing and these "spoken program notes" enable the listener to enter into a deeper connection with the music.
The DaPonte String Quartet is now in season 31 and its members are still proud to call Maine home.
LYDIA FORBES, VIOLIN
Lydia traces her primary musical influences to the moment when she heard the sound of her sister's violin—and knew it would always be time to know more about it—and to several of her teachers: Marylou Speaker, Eugene Lehner, Ben Zander, Dorothy Delay, Denes Zsigmondy, Masuko Ushioda, Jaap Schroeder, Isaac Stern, and Vera Beths.
Musical awards include the Weckstrom Prize in Musical Performance from Yale University and the Tera de Marez Oyens Prize in the Netherlands. Lydia has appeared as soloist at the Banff School of Fine Arts in Canada where she was Artist in Residence, with the Slovak Radio Symphony Orchestra, and with the Northwest Sinfonietta in the U.S.; chamber music festivals include Tanglewood, Bravo Colorado, the Portland Chamber Music Festival, Encounters with Isaac Stern in Cologne, and many others. Lydia studied with members of the Orion Quartet, the Juilliard Quartet in New York, and the Alban Berg Quartet in Vienna.
During her life in the Netherlands, which began with a Beebe Fund Grant, Lydia performed and toured with Het Zephyr Kwartet, a string quartet devoted to contemporary music and which she co-founded, Het Schönberg Ensemble, Ensemble Explorations and I Fiamminghi in Belgium, the Oslo Philharmonic in Norway, and the Netherlands Wind Ensemble, Nieuw Sinfonietta Amsterdam, the Osiris Trio, and L'Archibudelli in the Netherlands. Her travels with music have lead her to venues across the U.S. and Europe, as well as to the Philippines, Tasmania, Australia, and New Zealand. Recordings include the Sony Classical and Harmonia Mundi labels.
Lydia has performed as part of the DaPonte String Quartet since 2005; having the dream of being a member of a string quartet since age 11, she is grateful to be living this dream and bringing up her three sons in the beauties of the Maine landscape.
MYLES JORDAN, CELLO
Cellist, writer and teacher Myles Jordan arrived in the US from Canada in 1981. After completing undergraduate studies at the University of Toronto, he earned two further degrees at Juilliard, a doctorate of musical arts from Temple University, became associate principal cellist of the Concerto Soloists Chamber Orchestra of Philadelphia, then founded the DaPonte String Quartet. With over four decades' professional experience, Myles has taught at Temple University, Wilkes University and the University of North Texas, recorded for RCA Red Seal, CBC, Cadenza and Centaur records, written for Strad Magazine and collaborated in chamber music concerts and broadcasts with several of the world's finest musicians.
"Because music is a language, the driving impetus behind our work is to create greater awareness of historical, social, political and philosophical contexts in which it's created. My own aim is to draw as many human connections as possible between contemporary audiences and great composers."
FERDINAND LIVA, VIOLIN, ADMINISTRATOR
A violinist and conductor, Ferdinand "Dino" Liva comes from a musically prominent family in northeastern Pennsylvania. He began studying violin at age seven with his father, a noted conductor and teacher. Though the formal relationship required between teacher and student can often be broken by the familiarity of father and son, in this case the pair created a working rapport that, though tenuous at times, was ultimately productive. Other influential teachers included Berl Senofsky at the Peabody Conservatory, and Luis Biava at Temple University. Dino later spent four years as Assistant Professor of violin and chamber music at Wilkes University, and as conductor of the University Orchestra.
In 1991, Dino's lifelong passion for Chamber music was ignited during the very first rehearsals of a student quartet at the home of cellist Myles Jordan. He became one of the founding members of the DaPonte String Quartet, and moved full-time to Maine in 1996. Dino remains both excited and intrigued by the moment-to-moment decision making that a quartet must navigate as they prepare a piece of literature for performance. His quest remains the pursuit of that often elusive, yet eminently fulfilling, moment when they can say, "That's it!"
Dino continues to conduct and teach, enriching the lives of young musicians throughout the Mid-coast Maine. He currently teaches privately, and conducts the Sea Coast Youth Orchestra, the Portland Youth Junior Orchestra, and the Sea Coast Community Orchestra. In the past, he conducted the Portland Youth Symphony Orchestra and University Orchestra. He also teaches violin and chamber music as an adjunct faculty member at the University of Southern Maine.
KIRSTEN MONKE, VIOLA
Kirsten has performed throughout Europe, across the United States, Japan and Costa Rica. She joined the DaPonte String Quartet in 2008, a serendipitous occurrence that brought her back to her beloved home state of Maine. After completion of a BM and MM at Indiana University under the guidance of Georges Janzer of the Vegh Quartet, Kim Kashkashian and Csaba Erdelyi, she continued her graduate studies with Heiichiro Ohyama at UC Santa Barbara. She became Principal Violist of both the Santa Barbara Symphony and the Santa Barbara Chamber Orchestra, where she played for more than a decade. As a member of the Anacapa String Quartet she was awarded several prizes, including a silver medal at the Fischoff National Chamber Music Competition. She has taught at UCSB, Westmont College and is currently on the music faculty at Bowdoin College and Bay Chamber Community Music School. She is a recipient of the 2016 Maine Artists Fellowship Award.
DAPONTE STRING QUARTET FOUNDATION
The mission of the DSQF is to cultivate the appreciation of the art of the string quartet through distinctive performance and educational outreach.
In addition to the members of the DaPonte String Quartet, board members of the DSQF include:
Scott Budde, Director Financial Services Expert Alna, Maine
Scott Budde has over 35 years of experience in financial services. He plays recorder and keyboard with a fondness for early music and chamber music. He lives with his wife Chary and scruffy poodle terrier mix in Alna, Maine.
Chary Cole, Director International Educator Alna, Maine
Charlotte Cole is a developmental psychologist and children's media expert who has worked in over thirty countries, first overseeing the content development for international co-productions of Sesame Street and now as co-founder and executive director of Blue Butterfly. When not looking for lost luggage, she enjoys listening to and creating music with her husband, Scott.
Lynn Hannings, Secretary Bassist & Archetier Freeport, Maine
Lynn recently retired from the Portland Symphony Orchestra after 50 years as Bassist and Program Coordinator for the PSO Explorers Program. A recipient of a Fulbright Scholarship and an Annette Kadé Fellowship, Lynn was also trained as a maker and restorer of string instrument bows and has a workshop in Freeport, Maine.
Ferdinand Liva, Administrator & Founding member Violinist of the DSQ Topsham, Maine
Ferdinand Liva is a violinist and conductor. He is a founding member of the DaPonte String Quartet, performing in the group for 30 years. He is also an Adjunct Professor of Violin and the University of Southern Maine, and conducts in the Youth Ensembles program. He is currently Administrator for the DaPonte String Quartet Foundation.
Scott Miller, Treasurer Insurance Professional Freeport, Maine
Scott has more than 25 years of experience with performing arts organizations starting in 1994 with Freeport Players. Having both acted and sung for many shows he has now focused on operating the companies serving as past President of Freeport Players, past President of the Greater Freeport Community Chorus, current Treasurer of the Arts & Cultural Alliance of Freeport and now as Treasurer for the DaPonte String Quartet Foundation. A resident of Freeport, Maine Scott worked at Acadia Insurance Company of Westbrook, Maine for 25 years and now operates his own business.
David Shipman, Chair China, Maine
David Shipman, a fan of the DaPonte String Quartet since 2002, is an avid concert-goer with a passion for string quartets. He is a former treasurer and president of the board of the Maine Organic Farmers and Gardeners Association (MOFGA) and served on the board of Community Health Options. He is also currently on the Board of Fedco Seeds where he worked for 25 years before retiring in 2019.